Atorvastatin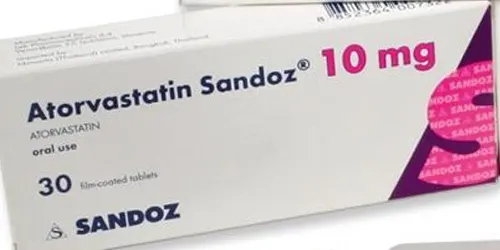 The risk of a stroke or a heart attack is a serious concern for many people. It is often caused by high cholesterol in the blood. The drug Atorvastatin is an inhibitor of HMG-CoA reductase and is one of the drugs widely used to prevent strokes and heart attacks. It has been proven that high cholesterol levels in the area of the arterial walls contribute to the disturbance of blood flow and oxygen supply to the brain and heart.
Atorvastatin in combination with diet and exercise can help the patients not only to improve health, but also improves their appearance. If you follow all the advice of your doctor, then the course of treatment will be successful.
During the treatment aimed at lowering blood cholesterol levels, it is not recommended to eat foods that are rich in fats. It is recommended to avoid alcohol consumption. If you drink alcohol often, then you should warn your doctor about this in advance.
Sometimes the drug is prescribed to adolescents who have genetic diseases associated with the problem of removing cholesterol from the body naturally. Atorvastatin is able to reduce not only cholesterol, but also other substances containing fats.
Method of Using the Drug
The medicine comes in the form of tablets for oral application, which is usually taken every day, one tablet at the same time, regardless of the time of the meal. Do not take more medication than prescribed. Never take a double dose of the drug if you missed a previous dose, as this can lead to overdosing. In order to improve the effectiveness of the treatment, the doctor may prescribe a low initial dose of the drug, which will gradually increase over the treatment course.
If you think that you have recovered and are feeling well, then you should not stop taking the prescribed drugs on your own. Only after completing the full course, you can get the maximum positive result from the treatment. Throughout the treatment, patients usually need to have several blood tests and check-ups with a doctor to monitor their blood cholesterol levels and check if the drug is working.
Precautionary Measures
Before using the medicine, you should definitely tell your healthcare professional if you are allergic to any medications or other substances. Tell the doctor if you are taking other drugs, whether they are prescription or not.
Tell your doctor about any health problems you are experiencing, especially if you have heart, liver, or kidney disease.
This drug is not recommended to people over 65, people with diabetes, and pregnant or lactating women. Before using Atorvastatin in Canada, the patients with liver disease should be examined and tested to determine how serious their disease is and whether they can use Atorvastatin in Canada in their case.
Side Effects
Contact your doctor immediately if after taking the medicine you get allergy symptoms such as swelling, hives, skin redness, fever.
Tell your doctor if you start experiencing any of the following symptoms that are bothering and persistent: heartburn, joint pain, diarrhea, confusion, memory problems.
Serious side effects are rare. However, if you experience any of the following symptoms, you should seek immediate medical attention: nausea, weakness, bleeding, flu symptoms, rash, loss of appetite, and discoloration of urine, extreme fatigue, trouble breathing and swallowing, wheezing.
The above list of adverse reactions and contraindications is not complete. Contact your doctor for complete information about the drug, conditions of its use and storage.
Comparison